Company tries to save Porthmadog's Coliseum cinema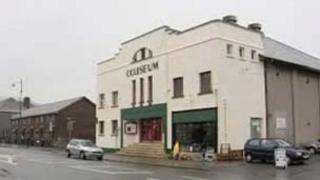 A new company has been formed to try to save the Coliseum cinema in Porthmadog, Gwynedd.
Friends of the Coliseum is a not-for-profit company which hopes to renovate and maintain the venue.
The cinema, which opened in the 1930s, was forced to close its doors in January amid dwindling audiences.
Members of the group are asking local people to donate and plans to turn the cinema "back into the grand Art Deco masterpiece that it began as".
Donation boxes have been distributed around the town to try and save the cinema, which saw the auditorium empty during some showings.
In 1985, 50,000 £1 shares in the cinema were sold to local people. However, the cash has run out and the building is in need of vital repairs.
It is thought the cinema is in a worse position than in 2007, when £14,000 was raised for necessary refurbishment to prevent it from closure.