Arts groups present Conwy civic hall takeover plans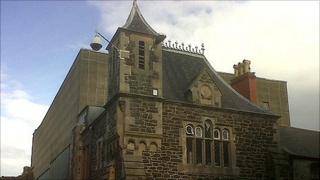 Two groups hoping to take over an entertainment venue in Conwy are to present their ideas to councillors.
The civic hall next to the quay in Conwy town centre is the county's third largest theatre after Venue Cymru in Llandudno and Theatr Colwyn.
Conwy county borough council says it cannot afford to keep running it.
One group plans a "vibrant" arts and entertainment hub, the other a theatre and cinema with community and rehearsal facilities.
A behind closed doors meeting of the council's communities scrutiny committee will hear presentations from both groups, who want to take over the running of the hall.
One of the groups, Ciwb Conwy Cube, gets its name from the distinctive shape of the building's 1960s roof.
The organisation was set up following a series of public meetings in 2010 when the hall was first threatened with closure.
Chair of Ciwb Conwy Cube Tony Franks said: "In a short time we expect it to be a vibrant hub of entertainment and the arts.
"The venue has a lot going for it. Some people in the town think it's ugly, but the acoustics are wonderful. Those of us who use it just can't get enough of it.
'Greater variety'
He added that "a more affordable scale of charges and a greater variety of types of performance" are just two of the "many projected innovations" for the hall.
The group has consulted an architect to identify the repairs required to bring the hall up to standard.
"At the same time we have been working on our Ciwb Conwy Cube business plan. This includes financial projections, and plans for repairing, marketing, managing and staffing," he said.
"We can do things with the venue that Conwy council can't do, like attracting grants."
The other organisation, Jac-y-Do (Jackdaw), is named after the bird which lives in the town.
Spokesman Craig Morrison said the name came about because "it has strong historical links to the town. Jackdaws are known for going out and bringing back interesting gems, exactly what we hope to do artistically here".
He added the building should be brought up to date so it can become "a source of civic pride".
"It's in such an important location where everyone looks at it, but it's not been looked after and loved," he said.
The group is planning a major reworking of the space, keeping the theatre and cinema facility on the top floor but with a community meeting room and a rehearsal room on the floor below.
"There's lots of creativity going on in schools in the area. We'd like to offer them a proper dance space to rehearse for Eisteddfod performances," said Mr Morrison.
"We want to work with the Ciwb Conwy Cube project and anyone who would have an interest in the building."
The issue will be debated by councillors on Thursday evening, but will also have to go before Conwy council's cabinet in October before a final decision is made.