Ysgol Goronwy Owen head was investigated for bullying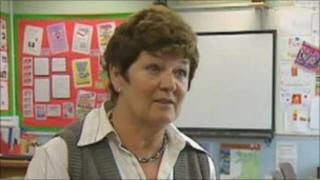 A suspended head teacher had previously been investigated over a bullying allegation, BBC Wales has learned.
Five teachers at Ysgol Goronwy Owen, Anglesey, said they had no confidence in Ann Hughes and went on sick leave in May, returning to work this month.
She had also been suspended in 2000 but returned after the Crown Prosecution Service (CPS) decided not to prosecute.
Neither Mrs Hughes, Anglesey council, the chair of the school governors nor teaching union Ucac would comment.
The Taro Naw programme to be shown on S4C on Monday also reveals the school in Benllech has in the past broken the law and wrongly destroyed documents.
In August 2010, five out of the six teachers at the school made a complaint about Mrs Hughes to the school's governors, who upheld the complaint and prepared an action plan.
But the teachers, unhappy with the action plan, passed a vote of no confidence in Mrs Hughes in May 2011 and went on sick leave, citing stress.
Mrs Hughes was suspended in July, while the five teachers returned to work this month.
Independent educational adviser Julian Jones told the programme that the action plan revealed a wide range of issues.
"This plan is based on eight points of action, across all sections of the school - not only the curriculum and management but finance too," he said.
"There is weakness across all areas. It's a school with a lot of problems."
Taro Naw understands that the teachers wanted the governors to bring capability proceedings against Mrs Hughes, a formal measure used to deal with teachers' incompetency.
The local education authority has told parents that the teachers' complaints relate to lack of communication, the leadership structure and some financial decisions.
But BBC Wales has been told that the teachers have also accused Mrs Hughes of bullying.
Concerned parent
They told their union Ucac that they were working in a climate of fear and the situation was affecting their health.
The programme has also found that Mrs Hughes was suspended for several months in 2000 while police investigated an accusation of bullying made by parents.
Christine Lesser, whose dyslexic son Jamie was aged 10 at the time, was approached by a concerned parent who told her about what was happening to her son.
"She got quite upset and started to tell me all these things that were happening to Jamie whilst he was at the school," she said.
"I asked her for names of people who had witnessed things, and I went to see them to make sure I had the correct information before I did anything."
Having spoken to witnesses, Ms Lesser sent a letter to social services, who passed her complaint on to the police.
Officers were ready to support a prosecution but the CPS decided not to take the case to court and Mrs Hughes returned to work.
Despite a request by police and social services, the education authority did not retrain Mrs Hughes or address the allegations with her.
The programme also found that investigations into a separate incident in 2005 revealed that the school destroyed several documents a parent had the right to see relating to an incident involving his daughter.
They also revealed that the school did not have a policy on bullying or a complaints policy at the time, as required by law.
It found too that governors broke statutory guidelines both by sitting on more than one committee dealing with the same complaint and refusing to comply with the Welsh Government's instructions.
The council, Mrs Hughes, the chair of the school's governors and Ucac - which represents the teachers and Mrs Hughes - all decline to be interviewed by Taro Naw while the investigation is ongoing.
Taro Naw is on S4C at 21:30 BST on Monday 26 September.