Welsh judge questions England riot offenders handling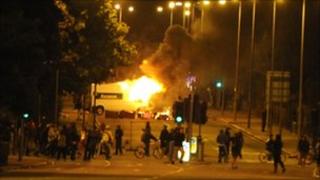 A judge at Caernarfon has questioned the way offenders are being dealt with after last month's riots in England.
Merfyn Hughes' comments came as charges against two Wrexham men held in custody for six weeks were reduced.
Thomas Hughes, 19, and Jack Johnston Lewis, 18, from Caergwle, were originally charged with encouraging a riot by using Facebook.
The Crown Prosecution Service (CPS) said it has to consider each case separately.
Last month Judge Hughes remanded both teenagers in custody on the more serious charge of encouraging a riot.
On Friday, the two pleaded guilty to the lesser offence, brought under the Communications Act, of sending a message by means of a public communications network that was grossly offensive or menacing on 9 August.
'Almost identical'
The judge freed both on bail for reports, for sentencing next week.
"What concerns me is on 19 August the CPS were pursuing a very serious indictable-only offence of inciting people to riot, " Judge Hughes said.
"The following week a case appeared in the magistrates' court at Caernarfon which is almost identical to this one."
The judge said he was also concerned that the offence the teenagers were now charged with was under the Communications Act.
"It also concerns me that the Director of Public Prosecutions has appeared in a Sunday newspaper, appearing to criticise the judiciary for the harshness of some of their sentences and, at the same time, prosecutors are bringing cases to crown court under an act, the Serious Crimes Act 2007, which they are there after almost immediately abandoning," he added.
Realistic prospect
In response, Nick Price, acting deputy chief crown prosecutor for CPS Wales, said they review all cases referred by the police in accordance with the Code for Crown Prosecutors.
The code requires the service to consider whether there is sufficient evidence to provide a realistic prospect of conviction and also whether a prosecution is in the public interest.
"We also keep all cases under continuous review, to ensure that the requirements of the code continue to be met as cases progresses and that the charges laid remain appropriate," he said.
"In this case, our review of the initial evidence available in August led to charges under Section 44 of the Serious Crime Act being laid against the two defendants.
"A full file of evidence was received last week and at that point, in accordance with normal procedure, a full review of available evidence was undertaken. This review led to the initial charges being replaced by new charges under Section 127 of the Communications Act," Mr Price added.
"Once the full evidence file was available, this decision was taken within three days and the case listed for court as soon as practicable."