Wylfa B transport plan suggests third Menai bridge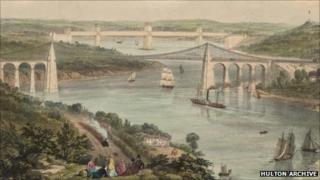 A third bridge across the Menai Strait could be needed if a new nuclear plant is built on Anglesey, a transport plan suggests.
The plan by consultants Grontmij said freight and car traffic to the proposed Wylfa B plant would add to congestion on the two existing road links.
Construction work on the plant could begin in 2015 and last for six years, the report said.
Anglesey council leader Bryan Owen said a third bridge would be advantageous.
In June the UK government confirmed that Wylfa B was on a list of eight sites deemed suitable for new power stations to be built by 2025.
On Monday afternoon plant developer Horizon Nuclear Power addressed an extraordinary meeting of Anglesey council on how it proposes to consult local people over the development of the proposed Wylfa B project.
Meanwhile, Grontmij's transport plan, commissioned by the council, will be considered by its environment and technical services scrutiny committee on Tuesday.
The plan estimates that up to 6,000 construction workers could be on site at the plant by 2017.
'Congestion issues'
Despite heavy restrictions because of current congestion issues on the Menai Strait bridges, it said a proportion of freight deliveries would need to be transported to the island by road.
It added: "If the developer cannot show that the number of road based freight and people movements will not contribute to the existing congestion issues on the bridges, the construction of a third crossing of the Menai Strait may be necessary."
The report also called for plant developers Horizon Nuclear Power to consider the impact on the bridges of the plant's construction.
Mr Owen welcomed the idea of an extra new bridge, saying: "If there was a third crossing it would be advantageous to the island.
"But we don't know how they are going to bring the freight in. It could be by train or by sea."
On the likelihood of a third bridge being built he added: "At this moment in time probably the funding is not there for it."
A spokesperson for the Welsh Government said it was having ongoing discussions with Horizon Nuclear Power "on a wide range of issues including matters relating to transport."
Horizon Nuclear Power has been asked to comment.