Snowdon 4x4 to sell on eBay to raise funds for rescuers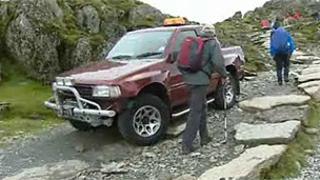 A 4x4 vehicle driven up Snowdon is being sold on online auction website eBay, with the owner promising the money to mountain rescuers.
The owner pledged fund from the sale of the Vauxhall Frontera to Ogwen Valley and Llanberis mountain rescue teams.
Nicknamed Trusty, the description on eBay says that "this 4x4 goes anywhere you point it - literally".
Craig Williams, 39, of Gloucestershire, faces court next month relating to taking a vehicle on moorland.
Vehicles are not allowed to be driven up Snowdon.
The ban has been in place since the creation of the park in 1951.
The vehicle was driven to within a few hundred metres of the summit of Wales' highest mountain in early September before strong winds forced the driver to stop.
It was eventually brought down via Snowdon Mountain Railway when weather conditions eased on the 1,085m (3,560ft) mountain.
Chris Lloyd from Ogwen Valley Mountain Rescue said: "We are always pleased when people recognise the valuable work done by volunteers from mountain rescue teams throughout the UK.
"Whilst we would appreciate any donation... we would never condone anyone taking a vehicle into the mountains and would hope that whoever buys the 4x4 will use it sensibly."