Anglesey family escape home as Land Rover fire spreads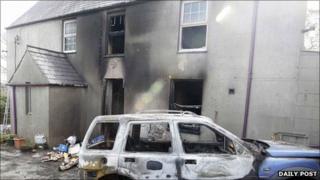 A family of four say they are lucky to be alive after escaping a blaze which started in their Land Rover and spread to their farmhouse.
A smoke alarm woke Elwyn Evans and his family shortly after midnight on Monday at their home at Bodorgan, Anglesey.
He and wife Ilona and sons Ifan, 12, and Dafydd, 14, got out unharmed as the fire took hold.
North Wales Fire and Rescue Service said: "They were really lucky that the smoke alarm alerted them to the fire."
An initial investigation confirmed that that blaze was the result of an electrical fault in the vehicle causing the Freelander to catch fire.
Four fire crews fought to contain the blaze for nearly three hours after the alarm was raised.
The family were asleep when smoke and flames were blown from the vehicle into their kitchen.
Mr Evans told the Daily Post that the firm alarm gave them enough warning to save their lives.
He told the newspaper: "When I walked towards the kitchen I took one breath and felt my throat fill up with smoke and I went light-headed, I knew we had to get out right away.
"We all went out the front door, I couldn't believe how quickly the fire and smoke then spread.
"The alarms saved our lives, they gave us the two minutes we needed to get out otherwise the smoke would have got us before we even knew about the fire.
"Everyone is still very shaken up by it all. We are in shock at how much damage has been done but at the same time we know we are lucky to be alive."
A fire service spokesperson said: "They were lucky to get out.
"The benefit of smoke alarms is that they give you an early warning and that gives you that extra time to get out.
"If it is in the middle of the night, it is a lifesaver."