Traffic survey call in 'dangerous' Pwllheli street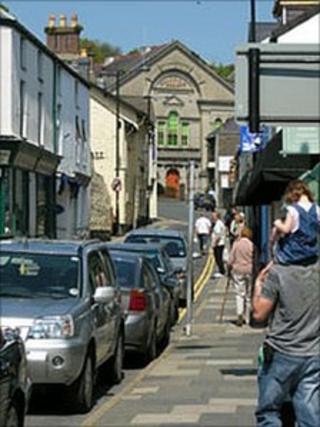 New calls have been made to improve traffic flow in the Gwynedd town of Pwllheli amid growing concerns about pedestrian safety.
Town councillors want a survey carried out due to an increase in vehicles.
Gaol Street (Stryd Moch) in particular is very narrow in parts and one shopowner said there had been many near misses close to her premises.
A spokesman for Gwynedd council said a survey was already under way and the findings would be discussed later.
"I have two issues here, the narrow pavements and the fact the road has two-way traffic," said Patricia Parrish, who runs Lonsdales women's wear and has called for improved safety for many years.
"Last week an elderly man fell off the curb, straight into the road, luckily nothing was coming at the time because he would have been killed," she added.
Ms Parrish said she would back any move to create a one-way system, even if it was for part of the street.
'First step'
"I think it'll have to be done, because lots of visitors already think it's one-way anyway, because it's so narrow. During the summer one woman stepped into the road not realising a car was coming up behind her.
"Thankfully she wasn't badly hurt, but an ambulance was called."
Town clerk Robin Hughes said councillors were concerned about he volume of vehicles passing through the town.
"Councillors want the survey because there is a feeling there is more traffic using the town now, especially heavy traffic such as lorries," he said.
"The pavement in Stryd Moch is especially narrow and there is a concern that it is dangerous to pedestrians.
"The survey would be seen as a first step from which we could then discuss with the county council what the best way forward would be," he added.
A Gwynedd council spokesman said its transportation and street care service was already monitoring traffic flow in Pwllheli.
"The findings of the survey will be shared with the Pwllheli Partnership in the near future, with the aim of working with them to identify proposals to improve traffic flow through the town," he added.