Pacific Ocean sailing challenge for Elin Haf Davies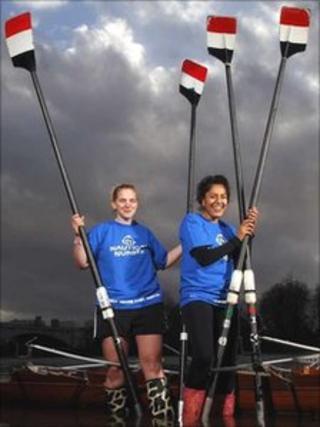 A nurse from Gwynedd who was the first Welsh woman to row the Atlantic now plans to sail across the Pacific.
Elin Haf Davies, from Bala, rowed more than 5,000 miles across the Atlantic and Indian Oceans, raising £250,000 for research into rare children's diseases.
Dr Davies, a scientific advisor for the European Medicine Agency, is to compete in the world's longest yacht race.
She hopes the journey of 5,680 miles (9,139 km) from China to San Francisco will take 33 days.
Speaking to BBC Wales, the 35-year-old said she took to the sea to fill a gap in her life.
"I was going through a divorce," she said. "I'd been dropped from the Welsh rugby squad, I'd finished my degree and so, there was an obvious void."
In 2007, Dr Davies set herself the challenge of rowing across the Atlantic with Herdip Sidhu, a fellow nurse at Great Ormond Street children's hospital in London.
They completed the 2,552 miles (4,106 km) in 77 days and 7 hours. When they landed in Antigua, after a gruelling journey, she became the first Welsh woman to row across the Atlantic.
'Feel alive'
Fourteen months later, Dr Davies joined the Ocean Angels, who became the first all-female crew to row across the Indian Ocean, completing the journey of 3,139 miles (5,050 km) in 78 days.
She has written a book about her experiences, On Tempestuous Seas.
"It is an incredibly emotional time, from the highest of the highs to the lowest of the lows," she said.
"(But) it makes me feel alive. It puts life into perspective and it allows me to feel the adrenaline run through my veins."
Dr Davies was a nurse at Great Ormond Street Hospital in London and currently works as a scientific advisor for the European Medicine Agency, on drugs being developed for children across Europe.
Money raised by the Atlantic row was put towards research into Vitamin B and its contribution to rare metabolic disorders, with the hope it could offer some therapeutic treatment.
She said the aim of helping find new treatments was a key motivating factor.
"Being supported by the children we were working with and their families was certainly the motivation I needed to keep me going."
Dr Davies will spend the next few months mastering the art of sailing before her Pacific challenge begins next March.