Criccieth 'feat stone' lifted by rugby-playing brothers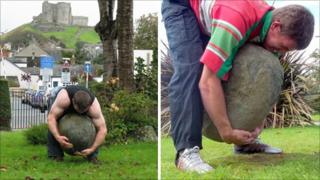 A pair of rugby-playing brothers have succeeded where a former English power lifting champion failed - in picking up a giant stone in a Gwynedd town.
Roger Davis failed to lift the stone in front of Criccieth memorial hall last August during a UK tour testing his strength on "feat stones".
Brothers Reuben and Dafydd Hughes, who live nearby, decided to try their luck.
They each managed to lift the stone, estimated at 160-180kg (25-28 st) in weight, inches off the ground.
Mr Davis, 41, from Hemel Hempstead, Hertfordshire, embarked on his stone lifting attempts around the UK with the aim of reviving an old tradition.
In managing to go one step further than him, the Hughes brothers also managed to follow a tradition running in their own family.
Reuben, 26, from Morfa Nefyn, and Dafydd, 34, from Pencaenewydd, recalled being told as boys of their father Eifion's feat in lifting a giant stone somewhere in the area.
After reading of Mr Davis' visit, they realised it must have been the Criccieth stone.
"We decided to go there one Sunday afternoon, quietly, just the two of us and try to lift it," explained Reuben, a stone wall and fencing worker.
'Good chance'
Reuben, who has played as a flanker for Pwllheli, said both he and Dafydd, who represented Wales at schoolboy and youth level as a hooker, thought they had a good chance of lifting the stone.
"I was a bit nervous when I first saw it, but I thought that as I worked with stones almost every day I had a good chance," he said.
"We both managed to do it, though Dafydd was first."
The pair emailed Criccieth memorial hall officials to say what they had done but were told they would need to repeat their feat in front of a witness for it to be registered.
They returned to Criccieth last Saturday and both lifted the stone once more.
Reuben said he handed his father his camera so that he could see for himself that they had succeeded.
"He was very pleased," said the father-of-two. "He didn't think we'd be able to lift it."
Mr Davis, who had read of the Criccieth stone in a biography of David Lloyd George, said after his failed attempt that it would take "a world class strength athlete" to lift the stone.
After being told of the brothers' success he said he was "very impressed indeed".
Trevor Ray, the hall's caretaker and "Guardian of the Stone", said of the brothers: "They were raised on a farm, they're very well built lads and they fancied their chances."
He said there had been a lot of interest in the stone from around the UK.
"We are arranging an event on St David's Day and are expecting a lot of people, including some renowned power lifters, to come and try to lift the stone," he said.
"I've had a look at the stone and put my hands around it but it's beyond me."