Snowdonia inspires Josie Russell in her textile art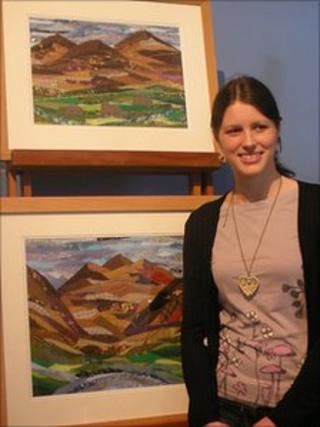 Textile artist Josie Russell says Snowdonia and the Gwynedd countryside inspire her daily as she opens a new exhibition of work.
The 24-year-old and her father returned to live in north Wales after she survived an attack in 1996 in which her mother and younger sister died.
She went on to graduate with a graphic design degree at Coleg Menai in Bangor.
Her new exhibition opens on Saturday at Plas Newydd on Anglesey which staged her first show last year.
Ms Russell, who lives in the Nantlle Valley, specialises in creating art from recycled material.
She told BBC Wales she has been amazed at the public response to her work.
Her first ever exhibition of her textile mountain pictures at the National Trust's mansion last year sold in days.
"I was thrilled it was so successful," she said.
"I had been selling work at craft fairs for about a year before that and the sales I made were very encouraging, but I never expected to do as well as I did.
Minimal environmental impact
"In fact, I was worried that I wouldn't sell a single piece."
When the exhibition closed people started leaving bags of old material at Plas Newydd for her to work with in the future.
She added: "When I first started producing work, I received donations of fabric from family and friends and sourced the rest in charity shops.
"I never expected such a wonderful and generous response from the wider public.
"Their valuable donations ensure I can carry on working with minimal environmental impact and I will never stop being grateful for their thoughtfulness and kindness towards me."
Famous landmarks
Ms Russell said that while her initial work was inspired by Snowdonia she did not depict specific places.
But since she has become more widely known as an artist she has started to receive commissions for actual locations.
"It became apparent that there was a growing desire to see the real Wales in my work, so this is what I set out to do," she explained.
"My new exhibition at Plas Newydd is a collection of pieces devoted to the beauty of some of the most famous north Wales landmarks.
"Snowdon features prominently, as do the Rivals, views from Capel Curig, the Nantlle Valley and Anglesey.
"Living in north Wales influences me daily.
"It is one of the most beautiful places in the world and I am very lucky that all I need to do is look out of my window in order to be inspired by it.
"I hope that my art reaches people who would otherwise never know the beauty of Wales and inspire them to come and see it for themselves."
Ms Russell spent her childhood in Wales but her family then moved to Kent.
She, her mother Lin and sister Megan,were attacked by Michael Stone in 1996 as they walked along a country lane.
Stone was jailed for life and will not be considered for release until 2031.