Anglesey council's poor performance may lose it money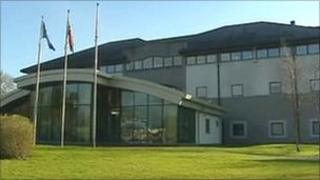 The poor performance of Anglesey council in recent years might affect how much grant money it gets.
Commissioners who have been running the authority since March are considering a report on how the authority delivered services in 2010/11.
The report says past shortcomings mean it may not qualify for 100% aid from a Welsh government improvement fund.
The council insists it is a "historic" document, but the report says that past shortcomings could affect the future.
The commissioners include former Flintshire council leader Alex Aldridge, former Cardiff council chief executive Byron Davies, and Mick Giannasi, former chief constable of Gwent Police.
The 79-page document looks in detail at every aspect of the the council's operations.
A council spokesperson said the document looked backward and "reports on progress made on the 2010/11 improvement objectives".
Significant changes
The report highlights a "worrying trend" that just under 40% of all the authority's indicators have declined year on year.
The indicators are the measure by which the Welsh government allocate council funding.
The education service scores highest and is regarded as doing well.
The commissioners, appointed by Local Government Minister Carl Sargeant, were sent to Anglesey in March.
They said in August that significant changes were still needed in the way Anglesey council is run.
A report looking at their first three months in charge said progress had been made in some areas but financial and business planning still needed to be improved.
Mr Sargeant said at the time he was not surprised at the areas of weakness found.
"I have long feared that poor political leadership would undermine service delivery, and the commissioners' report substantiates that," he said.