Eco jobs hope over Anglesey Aluminium site's new owner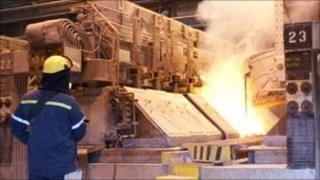 There is hope of a jobs boost when the new owner of the Anglesey Aluminium site is announced on Wednesday.
It aims to set up an eco park made up of businesses using waste energy given off by a biomass power station, BBC Wales understands.
It is thought the firm intends to employ up to 500 workers in the long term.
The smelting company closed its works at Holyhead two years ago with the loss of nearly 400 jobs.
The Anglesey Aluminium site has been on the market with offers invited in the region of £10m.
Anglesey Aluminium's owners Rio Tinto, the Welsh government and Anglesey council have all had a say during the competitive process.
The preferred bidder chosen during that process is due to be announced later.
Last month, the UK government gave approval for a biomass power station on the site. About 100 full-time staff will be employed when it is operational.
It is understood that the new site owner aims to harness waste heat and water from that process, to use in other businesses on the site.
There are hopes that, long term, the new operation will create at least as many jobs as were lost when the aluminium plant closed.