Snowdon 4x4: Accused man opts for crown court trial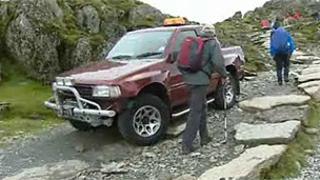 A man accused of driving a 4x4 vehicle up Snowdon has asked to be tried in the crown court.
Craig Williams, 39, from Cheltenham, was charged after the Vauxhall Frontera was found near the summit of the mountain on 3 September.
He denies dangerous driving and told Caernarfon magistrates he wanted the case to be heard before a jury.
Mr Williams was told he will remain on bail pending a committal hearing in Caernarfon on 2 December.
He also faces an alternative allegation of driving the vehicle on land not part of a road.
The vehicle remained in place near the summit for five days before it weather conditions allowed it to be brought down by the Snowdon Mountain Railway.
Meanwhile a 39-year-old man remains on bail following a second incident in which the same vehicle was again driven to the summit of Snowdon on 29 September.
He will answer police bail on 17 October.