Coach firm Silver Star 'part of Caernarfon's history'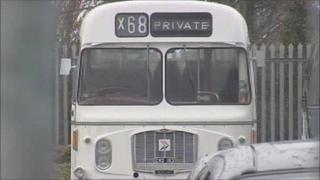 A coach company which has been placed in administration served communities in Gwynedd for almost a century.
A local historian has described Silver Star Holidays as part of the fabric of Caernarfon going back to 1918.
Known locally as Seren Arian (Silver Star) the family firm became a coach and holiday company but started as a "bws bach gwlad" (little country bus).
Annually, the company takes 12,000 people on their holidays.
But it started out with a single bus linking the village of Rhosgadfan with Caernarfon, according to local historian Meirion Hughes.
He said through the war years and into the 1950s the company ran one of the county's "little country buses" and also provided a courier service, carrying packages and live poultry between town and villages.
"They are part of the history of Caernarfon as much as anything can be," he said.
"They used to take parcels, even poultry, down to town for people to pick up - they were doing part of the postal service."
He said the company ran a number of local bus routes before starting as coach tour operator.
The company also ran heritage tours in classic vehicles.
Former mayor of Caernarfon and chairman of the town's civic society, Hywel Roberts, said the news was a "great loss" to the town.
The firm was founded by Edward Thomas, who was succeeded by his son Elfyn.
"Elfyn's father Edward started the business and it was originally a passenger bus service, which served the town and surrounding villages.
"In those days there were quite a few local bus companies, but Silver Star had blue buses with a silver star.
"When Elfyn joined the business he started the holiday coach company and he built that up into a highly successful business."