Climber airlifted after fall on Snowdonia's Y Garn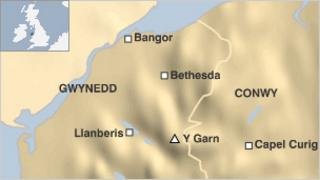 A climber who fell in Snowdonia has been airlifted to hospital after an operation involving mountain rescue teams and the RAF.
Two men had been scrambling on a steep, wet slope on Y Garn, a 3,100ft (945m) mountain in the Ogwen Valley.
One of the men, from Wrexham, slipped and fell. His colleague, below, tried to arrest the fall and injured his leg and head.
He was helped to a helicopter waiting below cloud level.
Conditions at the time of the fall were said to be poor, with rain in the area.
Low cloud
Members of the Ogwen and RAF Valley mountain rescue teams took part in the rescue operation along with the Ministry of Defence's Joint Service Mountain Training Centre (JSMTC) on Anglesey.
Staff from the JSMTC normally train armed forces personnel in mountaineering and rock climbing skills but were able to assist in the rescue on Wednesday.
The RAF Sea King from Valley on Anglesey was unable to reach the upper areas of the mountain due to the low cloud but was used to ferry the casualty to hospital in Bangor.
The men are both in their 40s.