Police sabotage probe after Angelsey plane incident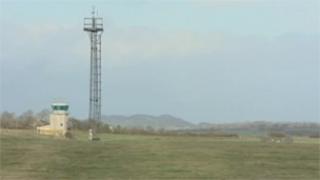 Police are investigating claims someone may have tried to sabotage a private aircraft at Anglesey.
It follows a complaint of the failure of a speedometer, possibly due to glue or resin in equipment.
The incident came to light at Mona Airfield last month. North Wales Police say forensic tests are being conducted.
A pilot discovered after take-off his speedometer was not working. It is used to prevent a plane from stalling.
Insp Gareth Evans says members of Mona Flying Club have been urged to remain vigilant.
The pilot involved, from the Conwy valley, says he does not wish to comment until the police inquiry is complete.
After landing safely he carried out checks on his private ARV Super2 plane which showed a tube may have deliberately been blocked by the use of glue or resin.
Insp Evans said: "Our inquiries are continuing and in the meantime we have urged the club members to be vigilant."