Arctic char released into Llyn Padarn to protect stocks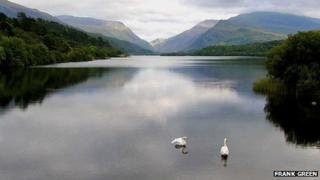 More than 2,000 young fish have been released into two lakes to protect a species whose numbers are declining.
An assessment of Arctic char in Llyn Padarn in Llanberis, Gwynedd, first prompted fears for their future in 2009.
Now, 800 fish which have been hatched and reared have just been released into the lake to reverse the trend.
And a further 1,600 have also been added into Llyn Crafnant, near Trefriw, in the Conwy Valley, to help stocks.
That is on top of the 5,000 fish already stocked there this year.
Back-up
Environment Agency Wales (EAW) and the Countryside Council for Wales (CCW) have been working for three years to preserve numbers of the fish, also known as the torgoch.
They can only be found in a few cold, deep lakes in north Wales where they have developed into distinct populations.
It is the second year in a row that char have been added to Llyn Crafnant after an assessment by the EAW and CCW found the Llyn Padarn population was under threat.
It was recommended that a back up population should be established, and landowners at Llyn Crafnant allowed the lake to be used.
Last year, 800 fish were released into Llyn Crafnant after being hatched at Mawddach Hatchery, near Dolgellau, from eggs taken from 25 Llyn Padarn char.
This year, after making changes to the way they are reared, 7,500 fish were hatched and raised to a length of 15cm, to increase the EAW's restocking programme.
'Safety net'
Fisheries experts advised that only 800 should be re-introduced into Llyn Padarn to reduce the risk of in-breeding among the population.
The fish released in Llyn Padarn have been clipped to enable anglers to identify their catch as a stocked fish.
"The Arctic char need a good habitat to thrive," said EAW area manager David Edwell.
"Setting up the secondary population is a safety net - but we are determined to find a way to improve the conditions at Llyn Padarn so they can continue to inhabit the lake."
He said char were a "unique and threatened species" in north Wales and the agency was determined to protect them.