Snowdon 4x4: Craig Williams in second set of charges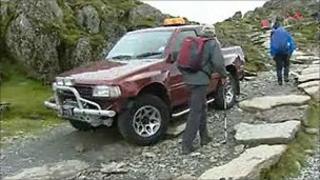 A 39-year-old man already facing one set of charges after a 4x4 vehicle was driven up Snowdon has been charged in relation to a second similar incident.
Craig Williams, from Cheltenham, has appeared in court on charges relating to the first time a 4x4 vehicle was abandoned on the mountain in September.
Police have now revealed a 39-year-old man has been charged in relation to a second instance earlier this month.
Mr Williams' solicitor confirmed it was he who had been charged again.
In a statement released on Thursday, North Wales Police said: "A 39-year-old man was last night charged with driving a motor vehicle dangerously and driving a vehicle on common land/moor land/land not part of a road.
"He has been bailed to appear before Caernarfon Magistrates Court on November 4."