Anglesey nurse cleared of having sex with boy by panel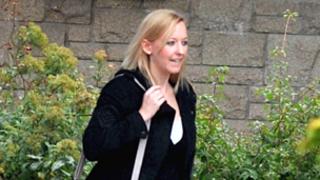 A district nurse from Anglesey has been cleared of having sex with a teenage boy.
But Victoria Horsley could be struck off after a Nursing and Midwifery Council (NMC) hearing in Cardiff ruled she allowed three teenage boys to drive her NHS car.
The panel said there were major inconsistencies in the boy's evidence.
James Townsend said his client had acted out of character due to unique circumstances. The hearing continues.
The disciplinary panel cleared the nurse of having sex with one of the boys, referred to as child A, because of major "inconsistencies" in his evidence as well as statement made by his brother - child B.
'Pestering and intimidation'
It ruled however that she did allow two of the teenagers to drive her car between 2005 and 2007.
She also maintained contact with child A, and his sibling, despite being told not to by her employers.
Ms Horsley, who has protested her innocence throughout the hearing, claimed she had been pressured and felt intimidated by child A and B into giving them lifts, as well as allowing them to use her car.
NMC panel chairwoman Cheryl Beach said: "The registrant said that she was subject to pestering and intimidation, giving in to their demands motivated by the desire to get rid of them.
"But she did, in fact, giver her consent.
"She accepted that she should not have given in to their demands and admitted it was not a sensible thing to do."
'Exaggeration'
The nurse was working for North Wales NHS Trust when her relationship with the teenagers was called into question.
Allegations about her having sex with child A between 2005 and 2008 were twice investigated by police but no action was taken due to insufficient evidence.
Mrs Beach said claims made by the teenager showed signs of "exaggeration" - and the teenager had changed his story on a number of occasions following "pressure" from his parents.
She added that the panel had to decide whether the charges amounted to misconduct and whether Ms Horsley's fitness to practise had been impaired as a result.
James Townsend, representing the nurse, said his client was a good nurse and she had faced "unique circumstances".
"She faced completely untrue rumours (of having sex with Child A)," he said.
"We can understand how someone under pressure might do something under pressure which is completely out of character.
"At the end of the day in 2011, her fitness to practise is not impaired," he added.
The hearing continues on Tuesday.