Shop visitor Marilyn Mantle's corpse role in Retreat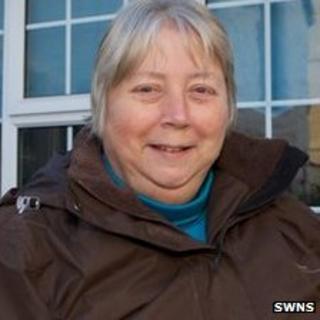 It is not every day you are asked to play a corpse in a Hollywood film after popping into your local charity shop.
But that is what happened to Marilyn Mantle, who appears with Thandie Newton, Cillian Murphy and Jamie Bell in psychological thriller Retreat.
Ms Mantle, 64, of Porthmadog, Gwynedd, is delighted with her role after being spotted by a member of the film crew.
"We thought it was a huge joke… it was one of those chance in a lifetime things," she said.
The crew told her she was just what they were looking for, with much of the filming at Plas Llandecwyn, a cottage near Portmeirion, which appears as the home of the main characters.
Although set in Scotland, the movie was filmed in and around Snowdonia during October 2010 and has recently been released on DVD.
Newton and Murphy star as a couple who escape to an island retreat following a personal tragedy, and are later confronted by a mysterious disease which is sweeping Europe.
Ms Mantle told BBC Radio Wales said it was a case of being in the "right place at the right time".
Chance meeting
"I'd taken a carrier bag of donations down to a charity shop," she said.
"We were standing around talking in the shop and a gentleman came in and said he was with the film company and said they were looking for someone of a certain age and appearance to play this corpse.
"We thought it was a huge joke but he took my details and my photograph and said they'd get back to me which they did a couple of weeks later.
"I wasn't quite sure how to take it because they said the director had seen my photograph and said I was exactly what they were looking for.
Ms Mantle said she was not a film buff and had not heard of her famous co-stars, apart from Jamie Bell, who played the title role in Billy Elliott.
But she called the experience brilliant, despite the filming conditions.
"I had to lie in a very wet rockpool on a beach covered in seaweed and sand," she said.
"It was a very wet evening last October - it had been raining quite heavily.
"I think the adrenaline had taken over - because as we went down to the beach to do the filming that's when it hit me what I was doing because of all the film crew that were on the beach.
"Up till then it all seemed a little bit unreal going to meetings and makeup and everything.
"The whole cast and crew that I met were absolutely fantastic - a lot of them were local people from this area that were doing work in the background.
"I feel very guilty that I've had all this publicity - I wasn't doing anything except playing dead."
Duffy, the pop star from nearby Nefyn, made her acting debut earlier in 2011 in the film Patagonia, but Ms Mantle said she was not planning to pursue a movie career.
"I'm going to sink back into oblivion in Porthmadog with my WI and my [voluntary organisation] Inner Wheel."