Horse-friendly sound dampener on bridge near Tregarth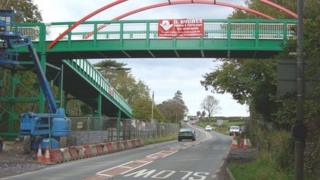 A new steel footbridge has been given a special rubberised surface to deaden its noise so that horses are not frightened while crossing.
The £400,000 design near Tregarth, Gwynedd, links the Lon Las Ogwen path system and Bangor's Lon Adda route.
Gwynedd council said the measures were justified, with so many local riders and the aim of making it safer for all.
The British Horse Society said it was delighted as it wanted value for all "vulnerable road users".
Dafydd Wyn Williams of Gwynedd council said: "Although it is a path for pedestrians and cyclists there are a lot of people who ride in the area so the bridge has been adapted for them to use".
As well as the rubberised surface of the bridge, the height of the side panels and the parapets have been increased.
Mr Williams, Gwynedd's senior manager for transport and street care, said it was the first time the council had gone to such lengths to make a crossing safe for horse riders.
He added that riders would normally use routes with larger bridges and not smaller metal pedestrian structures.
Bright colours
In the case of the Hen Felin design it was felt that it was necessary to make the bridge suitable for all users.
He explained that even its bright colours were intended to encourage people to notice the bridge, find out more about it and leave the car at home.
Adapting the bridge has cost more than if it had been built with a hard surface for walkers and cyclists, although the exact figure is not available, he said.
"The balance is a sensitive one of cost, how it's going to look, and making it suitable so that people can avoid crossing the road," he added.
Local schoolchildren are designing artwork which will be used as signs for the bridge.
Dr Fay Harris, who regularly crosses the road at Felin Hen while riding from her home in Mynydd Llandygai, said a lovely job had been done on the bridge.
Mike Vitkovitch of the British Horse Society in north west Wales said he was delighted.
He said the society was always "campaigning to get value out of cycle ways by making them accessible to all vulnerable users on the road... and it is very difficult to get anywhere on horseback without going on the road".
Mr Vitkovitch said nothing had been lost even if horse riders decided they would still rather cross the road.
"It's a lovely route now all the way from Bangor to the Ogwen Valley," he added.