Pensarn crab sculpture unveiled by BBC Autumnwatch team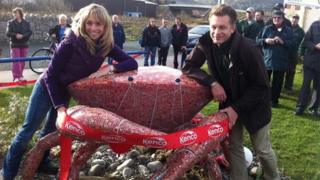 A pink, orange and red crab sculpture has been unveiled on the seafront at Pensarn in Conwy.
It was revealed by BBC TV Autumnwatch presenters Michaela Strachan and Chris Packham after a local residents' association won it in a public vote.
The sculpture, named Lois, was put up by a coffee company, which built it for a promotion.
Pensarn and Belgrano Residents Association said it would provide a boost for the town's promenade.
"This is a giant crab, but I also have to say it's quite a cuddly crab," Packham told BBC Radio Wales.
"It's a very friendly crab... sort of alien-like when compared to our bodies, so it always catches the imagination of young people."
The wildlife presenter said he remembered finding his first crab and not wanting to let it go.
"It was my own little living robot," he said.
Glenda Morrison, of the residents association said they "twisted a lot of arms" to get enough votes to win Lois.
"We got people to vote for us, family, friends, everyone supported us and it's wonderful.
"It really is a boon for this side of the promenade, we're so pleased," she added.
More than 100 people turned out to see the unveiling.
Michaela Strachan said it was "brilliant to see people involved with the community".
"I think so many people sit back and just blame everybody else for things and never actually get up and do something about it," she said.