Cooking oil from 10,000 Gwynedd homes to run buses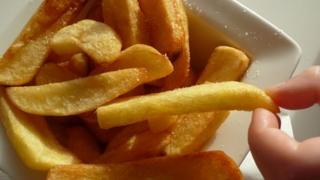 Cooking oil from 10,000 homes across Gwynedd is to be used to run local buses in a trial scheme.
A £25,000 grant from the Welsh government will be used to fund the three-month pilot which starts in January.
Gwynedd council is following projects already set up elsewhere in Wales.
If the trial is a success, it will be extended.
Steff Jones, Gwynedd's senior waste manager, that homes in the trial will be selected from across the county.
"We've done some research and it appears that at the moment people either put the oil in some sort of tin, which they then put out with the general rubbish, or pour it down the drain - which is especially bad for the environment," he said.
Clean and purify
The used cooking oil will be collected in canisters which will be emptied in to the recycling lorry every week.
Diesel-run council vehicles could also be fuelled with the spent oil in the future, but that would possibly involve just one van to begin with.
John Nicholson runs Bio-power in Bangor, which collects used oil from private and commercial premises.
The oil is then utilised for use by local people in their cars, for generators and to sell on to other suppliers.
"The aim is to provide a real alternative to the use of fossil fuel," he said.
He said his concern was the council's plan could be in direct competition with local companies who are already set up, and have the expertise, in the field.
But the council said there will be no competition, however.
Mr Jones said one bus company had shown an interest in taking part, and officials will check if there are more.
"We also know of a company which can clean and purify the oil, but again there might be more which are interested," he said.
"We aren't competing with any of the businesses which are already working in this field, rather the idea is that the council compliments what is already going on," he added.
Last week Environment Minister John Griffiths announced £3,2m of capital funding will be made available to councils to invest in recycling infrastructure in the current financial year.
Keep up the momentum
All Welsh councils will be able to bid for a share of £1,9m of the funding.
The remainder will be split between three councils which have already bid for funding to support recycling schemes, and Gwynedd's cooking oil pilot is one of these.
Elsewhere, Rhondda Cynon Taff is setting up a mattress recycling centre and 40,000 new sturdy recycling boxes are being provided in Torfaen.
"Everyone in Wales can be proud of the way in which we have transformed ourselves from a low-recycling country to leading the UK," said Mr Griffiths.
"However, if we are to reach our ambition of recycling at least 70 percent of all waste by 2025 and being zero waste by 2050 we must keep up the momentum."