Meeting due at Caernarfon road crossing site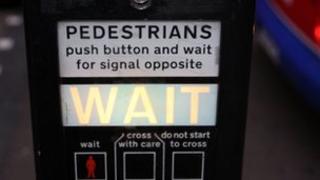 Caernarfon town councillors are to meet Welsh government officials to campaign for a crossing near a site where an elderly person was injured.
Councillor Alun Roberts said North Road it was a very dangerous stretch of highway especially for children and the elderly.
He said developments in the town, and an increase in traffic, had made the situation worse for all pedestrians.
The Welsh Government said a crossing pattern survey had been carried out.
"At least this time the Welsh Government is willing to come here to speak to us," said Mr Roberts.
"Two years ago when we last asked we just got a straight 'no'.
'Not make sense'
"There are pedestrian islands but there are children crossing to go to school, mothers with prams, and an elderly person was knocked down near Morrisons a few years ago."
The town councillor said he understood there was an issue about where to place a crossing, but said space would have to be found.
"We've had a lot of developments in that part of time, Galeri, Doc (restaurant) and Morrisons (supermarkert) over the years so now more people need to cross the road," he added.
Mr Roberts said that one reason given for refusing the town council's bid in the past was that pedestrian crossings were not allowed on trunk roads.
"This does not make sense because there are three crossings on the same road elsewhere in the town.
"The Porthmadog bypass - which I don't doubt equally deserved one - will have a crossing on it too so why can't we have one here," he added.
A Welsh government spokesman said a survey had been carried out on North Road, Caernarfon, to look at crossing patterns and options for possible crossings.
"A meeting is now being planned with Caernarfon Town Council to discuss the situation and look at the site," he added.