Boundary review puts Anglesey elections in doubt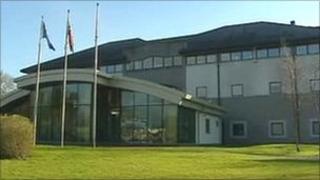 County council elections in Anglesey could be postponed for 12 months due to a review of election boundaries, BBC Wales understands.
The Boundary Commission for Wales is due to publish its proposals on Monday.
A Welsh government minister will then decide if an election should take place as they are due to be held across Wales next May.
The island's boundary review comes after commissioners were sent in to run the troubled council.
They were appointed by Local Government Minister Carl Sargeant following critical reports by Wales' auditor general.
The auditor recommended that Welsh ministers request the review to ensure any changes "adequately address the need for democratic renewal in Anglesey in terms of the number of councillors and the introduction of multi-member wards".
The authority has been subject to intervention by the Welsh government since March 2010 after years of political infighting.
It is understood that arrangements for next year's elections should start in December.
But the boundary review makes it highly unlikely that election planning can proceed.
Labour group leader John Chorlton said it had been decided a first review of boundaries was not good enough.
"it's going to mean quite possibly - and I don't know this as a fact - that the commissioners will have to stay longer.
"Because with the possibility of an extension in the time for the next election it's going to be very difficult now for the boundary commissioners to be able to complete their work in time for Carl Sargeant to be able to make a decision.
"So they are going to have a problem, because had it come by this May you would possibly have had another 10, 20 new councillors. It would have been unfair then to keep the commissioners in place having had new councillors there who had not been found guilty of anything."
Mr Chorlton said it would be very difficult to have the elections because of the timescale.
He said it was not right that the electors had not had a voice since before the commissioners were in place.
Review recommendations
"I can understand why it's been done because they wanted to move things ahead and they thought they were doing it for the best," said Mr Chorlton.
"But you must always involve the electorate in everything that you possibly can. I don't mean that you need to have a referendum every other week but on things like this then they should have had a say, and a bigger say than they are getting."
A senior source in the council has told BBC Wales that the elections are likely be postponed until May 2013.
Ministers have powers under section 87 of the Local Government Act 2000 to delay the council's elections if the review recommendations are not expected to be implemented in time.
A Boundary Commission spokesperson said the timetable meant ministers would not be presented with final recommendations until March.
The draft proposals are due to be published on Monday, after which the public will be consulted some time in January.
Then the commission will need to consider the responses before making a presentation to ministers.