Welsh champs Bangor City offer naming rights on stadium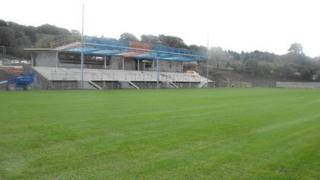 Football stadium naming rights have caused quite a stir, with companies paying vast sums of money for that kind of marketing.
The latest was the Sports Direct Stadium in Newcastle - formerly St James' Park - which stirred anger among many of their fans.
Etihad Airlines paid a reported £400m in order to name Manchester City's stadium, and Emirates paid £100m for the same rights to Arsenal's home.
But are these companies missing out on a bargain?
Realistic price
Early in 2012, Bangor City Football Club, the current champions of the Corbett's Welsh Premiership, will be moving in to their new stadium in Nantporth on the city's outskirts.
BBC Wales can reveal that the club have been contacting local businesses offering them the chance to name the new stadium for a far more realistic price.
The club would not reveal the exact sums, but BBC Wales understands that the sum involved is a five-figure one rather that the nine-figure sum paid by Etihad and Emirates.
One such company was local estate agents Williams & Goodwin - The Property People.
Mel Williams from the company said: "The company already do some sponsorship for the club and Bangor is very important to us as a local company.
"We were offered the chance to name the stadium, and I think it's a great idea that the club give local companies this kind of chance.
"It would be great to have a Welsh name on the stadium.
"At the end of the day, it's a matter of money. To be honest I was chuffed that someone at the club thought we were making this much money.
"It wasn't possible at this time, but we will continue to support the club in any way we can in the future."
The club are still looking for sponsors for the stadium, the stand and even the coaches' dug-outs, and believe they offer a good deal.
A Bangor spokesman said: "There are bargains, and I would encourage businesses to seriously consider sponsoring the club in some way.
"It is not just the stadium that is looking for sponsorship - there are all sorts of other ways.
"As champions the club's profile is high at the moment in Wales and in Europe. The stadium will be seen in every home game on TV."