Public inquiry over road across Rhoscolyn beach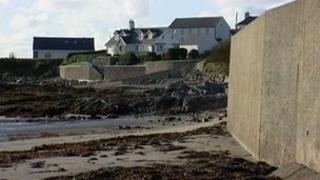 A row over whether a road should be built across a beach on Anglesey has reached a public inquiry.
Residents at Rhoscolyn want the road - which would only be usable at low tide - to improve access to 12 homes.
Currently they have to drive over the sands. Crucially, the inquiry will decide on evidence about whether any road has existed there before.
Objectors claim no-one remembers one and said the road would be a waste of money and spoil the beach.
Rhoscolyn community councillor Dr Wil Roberts said members were unanimously against a new road.
"We have been asking local people who have lived here for many years whether they remember a road at Rhoscolyn, and no-one remembers one," he said.
"We think it is dreadful that so much money is being wasted on this hearing because there are more important things to think about when you consider the economic situation. Anglesey has a lot of poverty."
Dr Roberts added the environment was also an important consideration.
"This road would cross a beach which has Marine Conservation Society approval and is a site of outstanding natural beauty," he added.
Protesters with placards gathered outside the hearing.
Jackie Short said she was concerned about the upkeep of any road "when really in this area we need resources for all sorts of other things".
James Rae said his family have had a house in Rhoscolyn since 1898 and he thinks there is no justification for a road across the beach.
"It is unrealistic, expensive and wrong and it goes to houses which are pure holiday homes where no member of the public will have have access," he said.
"I'm very much hoping the inspector will find it's wrong in law, wrong in fact and that the council maps are wrong," he added.
Solicitor Mark Stephenson, acting for some of the home-owners, said the purpose of the public inquiry is to establish whether there is a "historic highway running along the upper route on Borthwen beach".
He said the route had been there for many decades and would not be a "metalled" road but rather a "rocky track infilled with shingle and concrete".
"We're only looking for what was there prior to 1980", he added.
The public inquiry began at Holyhead town hall on Tuesday. Following the hearing the evidence will be reviewed and a report with recommendations presented to Anglesey Council.