Conwy harbour jetty will cost £50,000 more than planned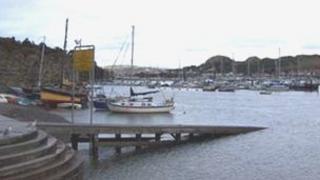 A new jetty for Conwy harbour will cost nearly £50,000 more than planned, it has emerged.
It is the second time that project managers have had to ask for more money before construction has even started.
The scheme was originally put at £210,000, but a survey discovered a layer of hard rock which increased the cost to £448,031.
But Conwy council now has to find an additional £50,000 and will discuss the matter on Wednesday.
The council said tenders for the construction of the new jetty at Conwy Quay had come in over budget, and the matter was being referred back to the cabinet.
It said if the project was to proceed, a funding shortfall of up to £50,000 needed to be found.
A council report said: "External funding sources are being explored.
Hard rock
"If such funding is not forthcoming, an alternative option is to extend the level of unsupported prudential borrowing."
The local authority is expected to make a decision on 13 December.
In May, Conwy council's cabinet approved plans to borrow money to cover the initial cost increase, and to raise harbour fees to help repay the loan.
The plans for the jetty were passed in November 2010, but the proposals have divided harbour users.