Caravans turn over in high winds at Llanfwrog, Anglesey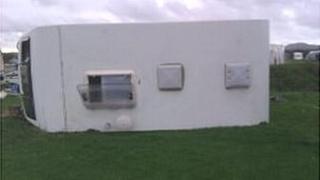 A clean-up operation is underway at a campsite on Anglesey after high winds damaged six caravans.
Gusts tore through Sandy Beach Caravan Park at Llanfwrog, near Valley, with the owners describing them as being like a tornado.
The winds left a trail of destruction, turning over five touring caravans and ripping the roof off a static van.
The Met Office recorded winds of between 61mph and 81mph in north west Wales on Tuesday.
There were no injuries during the incident just before 12:00 GMT, said the park owners.
The park's sales director Michelle Hall, who is the partner of its owner John Seymour-Jones, claimed a tornado cut a path through the site damaging some caravans but leaving others untouched.
"There was a torrential downpour before the tornado hit and within a few seconds five tourers were turned over and a static van's roof was ripped off," she said.
"Caravans either side of the path of the tornado were left untouched and there were tables and chairs left standing.
Toppled
"Caravans on the front near the sea, where you would expect damage, were not hit."
The park, which has 250 caravans, is closed to the public for the winter.
The Tornado and Storm Research Organisation (Torro) had warned of an increased risk of tornadoes on Tuesday.
Sue Charles, BBC Wales weather presenter said a strong, well-marked cold front pushed eastwards, meeting milder unstable air, and increased the risk of tornadic activity.
"North west Wales bore the brunt of the gale force winds," she said. "Gusts of 61mph were recorded at Valley on Anglesey.
"Peak gusts of 81mph were recorded at the Met Office weather station at Dyffryn Mymbyr near Capel Curig."
Meanwhile, a woman was taken to hospital after what has been described as a "tornado" struck part of Greater Manchester, also on Tuesday.
A sudden gust of wind toppled a chimney in Heaton Moor near Stockport at about 14:30 GMT.