£161m VAT fraud: Vaughan-Owen sisters jailed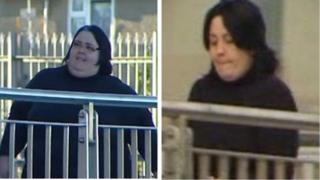 Two sisters who tried to claim £161m in VAT they had never paid have each been jailed for three-and-a-half years.
Andrea and Roberta Vaughan-Owen, of Colwyn Bay, Conwy, were also convicted of illegally claiming tens of thousands of pounds in benefits.
The pair, described as Laurel and Hardy figures by their defence, were called "serial fraudsters and shameless liars" by the judge at Caernarfon Crown Court.
The trial heard the pair lived "beyond the dreams of honest working people".
As well as their luxury home they rented out a second property, had private health care, paid for private education for Andrea Vaughan-Owen's children and expressed an interest in items such as a £315,000 Rolls Royce.
Prosecutor Paul Taylor described the trial as a case "of our times and for our times".
"A case of, if you want it, you can have it, without doing any work to earn it," he told the jury as he outlined the case against the two sisters.
They were found guilty of nine frauds.
'Laurel and Hardy'
During the trial, the court was told that 42-year-old former Post Office worker Andrea Vaughan-Owen and Roberta, 37, got money from anyone they could, including banks, insurances companies and through state benefits.
The pair had both claimed incapacity benefits and working tax credits at the same time.
They were also accused of falsely registering companies for VAT purposes, and carrying out mortgage and insurance frauds.
But the main charge facing the two women was an attempt to reclaim £161m in VAT refunds for tax they had never paid in 2008.
The sisters claimed that the attempt to reclaim the massive VAT sum had been a mistake.
Their defence teams said they failed to understand the forms involved.
Lee Karu QC, defending Andrea Vaughan-Owen, said the claim was "nonsense, deluded, idiotic".
He said the sisters were more like Laurel and Hardy, rather than Bonnie and Clyde crime figures.
But the jury rejected their version of events and found them guilty of all nine charges.
Jailing the pair, Judge Niclas Parry said: "The jury has seen you for what you are - serial fraudsters, shameless liars, manipulative and calculating. You lived a lavish, greedy lifestyle at the expense of people who face real hardship."
Speaking after the sentencing, HM Revenue & Customs (HMRC) said the case served as a warning.
Simon De Kayne, assistant director with, HMRC said: "The scale and variety of their criminal attempts was astonishing but it wasn't enough for them and their greed led to the £161m VAT claim, and their downfall.
"Anyone tempted to cheat, swindle and defraud should be warned that we are examining claims more closely than ever before."
The HMRC said it would now be starting confiscation proceedings against the sisters, in a bid to recoup some of the money stolen in benefit fraud.