Charity Tyddyn Mon's bill over squeaky toy in Moelfre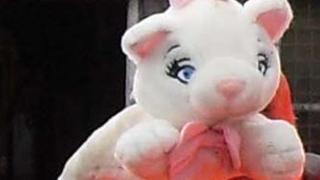 A cat apparently "trapped" in a recycling bin on Anglesey turned out to be a battery-operated fluffy toy.
A member of the public heard "meowing" sounds as they pushed a donation into a clothes bank in Moelfre.
Concerned people pushed in food and the charity Tyddyn Mon, which owns the collection point, called in steel cutters in a 12 hour rescue operation.
Inside there was no cat, but a fluffy, squeaky toy hidden in the clothes pile. The RSPCA said "they had to check".
Local residents were aware that a pregnant cat had gone missing in the area.
Attempts to open the metal container with a key had failed because the lock had been tampered with and firefighters recommended specialist help.
Tyddyn Mon staff took the clothes bank 17 miles to engineering company Steel Fabrication and Engineering Ltd in Llanrhyddlad, to ask for assistance.
'Realistic'
The engineering firm's managing director, Kelvin Owen, said his team stuck a mirror and torch through a hatch to see if they could see the moggy, with no success.
They then worked to open the locked steel door.
"It didn't even look like a cat, to be honest," Mr Owen told BBC Radio Five Live. "But the meowing sound was very, very realistic"
"We laughed for a long time."
"As the clothes fell into the bin they was obviously landing on the toy and pressing a button," he explained.
The charity, which works with adults with learning difficulties, said the incident turned out for the best but it now faced a bill of around £300 for repairs to the metalwork.
Michelle Owen from Tyddyn Mon said the charity had no choice but to check reports that a cat had been deliberately placed in the bin.
"It's money the charity doesn't have to spend on something like this, but maybe this was genuine and someone really thought a cat was in there," said Ms Owen.
Gwen Evans, the RSPCA's chairman on Anglesey said she was relieved it was a cuddly toy.
"They had to check, to give the report the benefit of the doubt," she said.