Llangefni's Becws Gwalia bakery landlord wants solution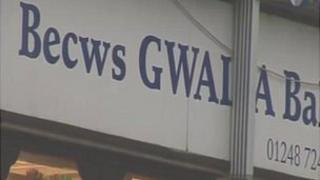 The owner of a building which houses a 100-year-old bakery on Anglesey says he does not want it to close.
A 3,000 signature petition has been collected in support of Becws Gwalia bakery in Llangefni, which the business claims could shut in three months.
But landlord Dafydd Dale-Jones says all he wants is for bakery owner to sign a lease agreement to stay.
Yvonne Roberts declined to comment on the lease issue but said support from her customers was fantastic.
A petition has been collected supporting Ms Roberts, who said she had been given three months to leave the premises.
Mr Dale-Jones, whose family owns many properties in the town, said the issue at Gwalia had come to a head because he wants Ms Roberts to sign a lease agreement.
He said the publicity surrounding the bakery had upset his family.
'Flat-out'
"My mother is 71, she doesn't need all this. We're nice people and this is not a true reflection of what we are like, " he said.
"I'm born and bred Llangefni, and my family has owned property here since World War II.
"It is in my interest and spirit for Llangefni to keep going."
"But she (Yvonne Roberts) has to go on to a lease."
Ms Roberts took over the bakery in 2008, and currently employs 12 people.
"I'm fighting to keep the place open but I can't say any more (about the lease) because the matter is now in the hands of my solicitor," she said.
"All I will say is that the support I've had has been fantastic, and not just from Llangefni, but from all over.
"I'm concentrating on Christmas now, and making sure I get stuff into the shop, and then I'll be flat-out trying to sort it out afterwards."