Selonda UK fish farm on Anglesey in talks over problems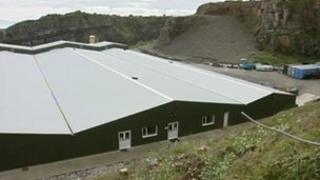 Talks are underway to try to resolve problems at a fish farm which received millions in pounds of grant aid from the Welsh government and EU.
The Welsh government says it is aware of difficulties at Selonda UK, which operates a high tech sea-bass farm at a site near Beaumaris on Anglesey.
The company says it is discussing options with a number of parties.
It is jointly owned by the Greek fish farming enterprise Selonda and a Saudi based business called Jazadco.
The fish farm was established on Anglesey in 2002 and produces 1,000 tonnes of sea bass annually.
Jazadco's website says 50% of the investment cost of the Anglesey site was a non-refundable grant financed by the EU and Welsh government.
In August Selonda UK received additional government funding to help pay for work to resolve electricity supply problems.
The company's Managing Director Andre Bravo Santos told BBC Wales he was discussing various options with a number of parties.
The Environment Agency says it is monitoring the situation with the Welsh government taking the lead.