Jeyes warns 155 jobs could be lost in Mold, Flintshire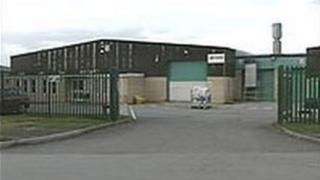 Cleaning products company Jeyes has warned that 155 jobs could be lost at its factory in Mold, Flintshire.
Jeyes is to begin a consultation with staff at the site, which has been on the Bromfield Industrial Estate since 1979.
The company says it is reviewing whether to continue manufacturing in Mold or close the factory. Last year 36 jobs there were at risk.
The outcome of the review is not expected before February 2012.
The site makes cleaning products for caterers, housekeeping, floors, laundry and general cleaning.
Nicholas Goodwin, the company's chief financial officer, said: "The review may well conclude that manufacturing should continue at the Mold site.
"However it is possible that we may have to close the facility and transfer production elsewhere, with the potential loss of all 155 jobs there."
He added: "We understand the concern that this will undoubtedly cause amongst our hard-working and loyal staff and the local community.
"We, like many other businesses, are facing tough economic conditions and strong competition around the world so we have to consider some difficult options to ensure the continued health of this business going forward."