Hoaxer fails to stop Christmas celebration in Bangor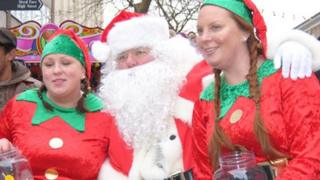 A community group in Gwynedd has rearranged a city centre Christmas event after a hoaxer tried to sabotage it by cancelling attractions.
The People of Bangor Community Group say they have no idea who is behind the hoax emails and phone calls.
It is the second year for group has held the High Street celebration.
Organisers said they have reported the matter to the police because of the abusive nature of some of the hoaxer's emails.
"Someone was trying to jeopardise the event by claiming to be me emailing the attractions to cancel them," said the group's chairman Nigel Pickavance.
"Then when the attractions were emailing back asking for details about the cancellation they were getting abusive emails back allegedly from me.
"There was also a phone-call from someone saying he was my brother."
Mr Pickavance said the group found out about the hoaxer when of the group's volunteers saw one of the attraction owners in Bangor.
"Now I've given everyone a password and they know it's me only after the password has been used."
'Something magical'
The group has reported the matter to the police because of the abusive nature of some of the emails, Mr Pickavance added.
"We have all the attractions back now, and we are hoping that the weather will be nice."
There will be an ice rink, fun fair rides, live entertainment and Santa's grotto at the event on the High Street on Saturday.
This year's message is "keep your local economy going by spending your money locally", he added.
"We want to do something magical for the children in the city because people can't afford to travel far now."
There is only one thing left to do before Saturday and that is to find a string of solar-powered lights long enough for a tree in the city centre.
"When I was a child I used to travel into town with my gran on the bus and as it turned into the city centre there was this big conifer tree all lit up.
"The tree is still there so I'd like to see that lit up on Saturday as part of the event," Mr Pickavance added.