Gwynedd schools: Ysgol y Parc arts project marks closure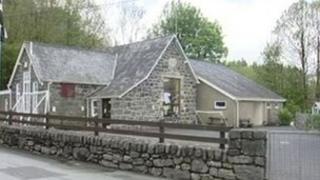 Work has begun on an arts project to mark the closure of a Gwynedd school.
Ysgol y Parc in Bala is due to close in August 2013 because the council says it is too small to be viable.
Musician Huw Warren, filmmaker Greg Byatt and photographer David Woodfall will run events inviting residents to share their memories, photos, and archive material.
Closure will culminate in a live performance and travelling exhibition in July 2012.
It is funded by the Arts Council of Wales.
Shared memories
"We hope to look at the village school in terms of both its past, present and future and examine the effects of losing a school in a small, local Welsh community," said Mr Warren.
"The initial part of the process will involve asking members of the community to share archive material, photos, stories, etc, which will be woven into the the fabric of the piece, culminating in a live performance and a travelling exhibition next July."
The first event takes place on Friday with the screening of the 1949 film Noson Lawen, which was filmed in Parc.
Mr Warren, an award-winning contemporary jazz musician based in Gwynedd, will also perform at the event.
Ysgol y Parc, a community school for children aged 3 to 11, won a 12-month reprieve in July but is still set to close in August 2013.
Under a £10.2m plan to reorganise schools in the Berwyn catchment area, pupils would go instead to Ysgol OM Edwards at Llanuwchllyn, three miles away.
Gwynedd council said closing Ysgol y Parc would save around £70,000 per year and strengthen pupils' Welsh language use.
But campaigners from Gynghrair Ysgolion a Chefnogwyr (The League of Schools and Supporters) have urged Gwynedd council to look again at "models of co-operation" between schools in the same catchment area, suggesting it could be cheaper than closure.