Gwynedd council approves Dolgellau school closures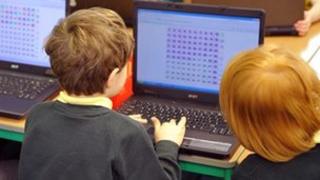 Gwynedd councillors have voted to close Brithdir, Dinas Mawddwy, Ieuan Gwynedd and Machreth schools near Dolgellau.
The closures will take place in 2013 as part of a £1.6m reorganisation of education in the Gader catchment area.
A multi-site area community school for children aged three to 11 is then planned for the current sites of Brithdir and Dinas Mawddwy schools.
A council spokesman said the full Gwynedd council meeting decision came after months of consultation.
The new multi-site school would provide education for the catchment areas of the current Brithdir, Dinas Mawddwy, Ieuan Gwynedd (Rhydymain) and Machreth (Llanfachreth) schools.
"Further discussions will be held to develop the lifelong learning community in the town of Dolgellau, and further work will be held regarding future education arrangements in the western part of the Gader catchment area," the spokesman added.
Elsewhere in the county the Welsh government has approved proposals to close Ysgol Bryncrug, Ysgol Llanegryn and Ysgol Llwyngwril and to establish a new area school at Llanegryn.
The plan to close Ysgol Aberdyfi on 31 August 2013 also has Welsh government backing, following the completion of improvements at Ysgol Pen y Bryn, Tywyn.
Last month Gwynedd council's education portfolio holder, Liz Saville Roberts, said the planning application for the new Ysgol Bro Dysynni area school had been submitted to the Snowdonia National Park.
"The new environmentally-friendly school, which will be located in Llanegryn, will provide high quality educational facilities which have been designed to meet the needs of the 21st Century curriculum.
"The wider Dysynni area will also benefit from a further £2.5m investment to improve and modernise Ysgol Pen y Bryn, Tywyn; Ysgol Dyffryn Dulas, Corris and Ysgol Pennal," she said.