Dingle nature reserve in Llangefni opens extension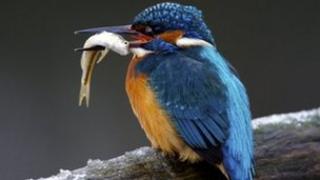 A 10-acre extension to a nature reserve on Anglesey is being opened.
The extra land at The Dingle in Llangefni was bought with grants from the Countryside Council for Wales and Big Lottery Fund.
Once used for grazing, it now has more than 6,000 young native trees, including oak and ash.
Anglesey council owns the reserve, which attracts about 50,000 people a year, and it said the extension would add to visitors' enjoyment.
The reserve is home to a variety of wildlife including frogs, newts, adders and lizards as well as many butterfly species and birds.
It is regularly used by schoolchildren who helped collect the acorns and seeds which were nurtured into young saplings and planted in the new land.
Local councillor Rhian Medi said during the past 10 years the reserve had been transformed from degraded woodland into a popular visitor attraction.
"The Dingle is a very special place which offers both locals and visitors alike a place to appreciate the countryside and wildlife," she said.
"I would like to thank all the people, many of them volunteers, who worked in partnership to make the continued development of the Dingle possible."