Conwy Valley pair bailed over illegal 3,000 tyres dump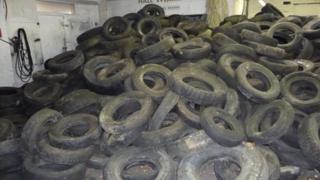 Two men have been arrested on suspicion of illegally dumping more than 3,000 tyres in Conwy, says Environment Agency Wales. (EAW)
EAW officers and police made the arrests after an appeal for information about the dump in Glan Conwy last week.
The men, aged 63 and 35, have been bailed while more investigations are carried out.
The dump posed a fire and pollution risk and has been removed, EAW said.
The agency said the tyres were left in a garage near to homes, the Conwy estuary, the Conwy Valley railway line and the A470 trunk road connecting Llandudno with Cardiff.
Agency contractors took two days to clear the site.
"If these tyres had caught fire, toxic smoke would have polluted the air, wildlife in the Conwy estuary would have suffered, and the railway and main north-south trunk road could have been closed until the fire was put out," said EAW's Sian Williams.
Ms Williams added that as regulator of the waste industry the EAW investigated any reports of waste crime to ensure a level playing field for all businesses in the sector.
EAW has announced the creation of a 90-strong taskforce to tackle waste crime.