Wounded soldiers Brad Hughes and Peter Wesley become scuba instructors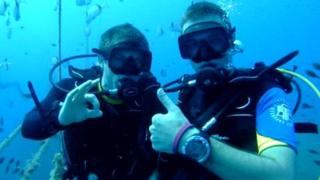 Two injured soldiers have gained diving instructor qualifications after enrolling in sub-aqua rehabilitation.
Brad Hughes and Peter Wesley have become the only recipients of the British Sub Aqua Club (BSAC) open water badge through a pioneering Army scheme.
Mr Hughes, of Llandudno, Conwy, and his friend Mr Wesley, of Bury St Edmonds, Suffolk, have been praised for a "fantastic" achievement.
Both have now been discharged from the Army on medical grounds.
Mary Tetley, chief executive of the BSAC, said: "Gaining your BSAC open water instructor qualification is an achievement in itself, but to do so when battling a crippling injury which has had such a profound effect on your life is remarkable.
"I am so pleased for Brad and Peter and they are a great inspiration to all of our members."
Mr Hughes, 28, a member of the Parachute Regiment, was wounded in Afghanistan when the fortified Viking vehicle he was in drove over an Improvised Explosive Device (IED).
He received six fractures and a dislocated right foot and is still undergoing treatment three years on.
As part of his rehabilitation he joined the diving programme run by the Army Sub-Aqua Diving Association (ASADA), which trains military divers.
Mr Wesley, his "dive buddy", enrolled after receiving complicated leg fractures during military training.
Mr Hughes said it had been devastating to have been injured, with "frustration, pain and worry".
"But the diving gave me some confidence and everything I was worried about on the surface disappeared when I got to the bottom," he said.
"All I had to concentrate on was where I was going and where my buddy was and being a new experience to me, it meant I was learning something new every time I got in the water.
"It just allowed me to leave behind those worries I had about my injury and what the future held.
"It had never even crossed my mind to try diving before. If I am honest, I was a bit wary of the idea of breathing underwater, but in the end I became really focused on taking it forward and learning."
Mr Wesley, a former infantryman, had been due to go to Afghanistan before his own injuries, and for six months could not walk unaided.
"I went from training to fight in a battlefield one day to sitting in a room doing nothing the next day so the offer of diving with ASADA gave me something to strive for," he said.
He now works as a part-time gamekeeper and for his father's company, which makes equestrian cross country fences.
Diving as rehabilitation for wounded soldiers has been used by the military for a number of years.
John Gibbon, vice-chairman of ASADA, and a former lieutenant colonel in the Royal Artillery, said the pair's achievement was "nothing short of fantastic".
"They started the programme as complete novices," said Mr Gibbon.
"Brad doesn't even like the sea that much but they have both taken to it like the proverbial duck to water."