Families pay tribute to two women killed in Llanrug car crash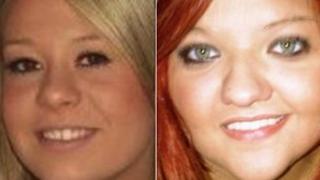 The families of two young women killed in a car crash on New Year's Day have paid tribute to them.
Sasha Jarvis, 19, was described as a "fun-loving and warm person" while Sian Davies's family called the 21-year-old "beautiful, happy, loving and outgoing".
An inquest was opened and adjourned on Tuesday into the deaths.
Both were travelling in a Vauxhall Corsa, which is believed to have hit a wall in Llanrug on Sunday.
In the family statement, Ms Jarvis is described as a loving daughter of Menai and Neil, and stepdaughter to Barry.
She had two sisters and a stepbrother.
The former Ysgol Brynrefail pupil was working as a classroom assistant at Ysgol Gynradd Llanrug, and "adored all the children".
"Sasha is best described as being a fun-loving and warm person who loved her family and numerous friends," the family statement says.
'Total shock'
"A popular character in 'Llanber'... she also worked in a care home in the village and was well thought of by both guests and fellow staff alike.
"Sasha will be missed dearly by all her family and friends following this sudden and most tragic incident. She will never be forgotten."
Her family also added their "heartfelt" sympathy and condolences to Ms Davies's family.
Ms Davies was the second eldest daughter of Robin Lloyd and Jennifer Anne Davies.
Her death had left the family in "total shock" at their home in Pentir near Bangor, they said.
She was described as a "beautiful, happy, loving and outgoing" young woman who had "touched the lives of many people, young and old, with her generosity of spirit and zest for life".
"She led a short life but lived it with a huge smile on her face," said her family.
"She was the apple of her family's eye and her loss will leave a huge void that can never be replaced."
'Wonderful family'
Her eldest sister Olwen had got engaged on New Year's Eve.
"I am so glad that Sian had been able to share our happy news before the accident," she said.
It is the second time the family has lost a child.
Ms Davies's mother said they had also lost a 19-month-old daughter in 1995.
"No parent should have to bury their child before them. It is so unfair that child is now the second child we have lost," she said.
"I'm so grateful of the strong support given by my wonderful family. We will just have to support each other in whatever way we can."
The family added their thoughts and condolences were also with the Jarvis family.