Dog and owner savaged by 'pack' on Dinas Dinlle beach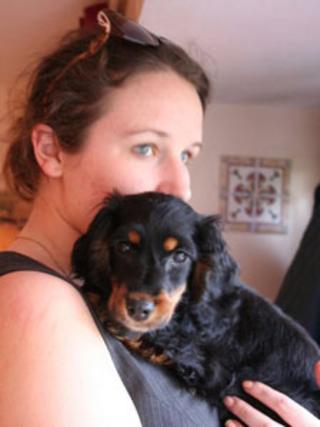 A woman has described the moment she and her pet dog were savaged by five "Rottweiler-type" dogs on a beach.
Eira Thomas, 22, was walking one-year-old cocker spaniel Bella on Dinas Dinlle beach, Gwynedd, when the animals attacked Bella.
Ms Thomas, from Llandwrog, went to hospital with bites following the attack on Sunday. Bella was put down.
North Wales Police are appealing for information and believe the dog owner travelled in a red Transit van.
Ms Thomas said the five dogs "just came out of nowhere".
She added: "They were just staring at Bella. I realised there were three Rottweilers there, and knew I probably shouldn't react.
"All of a sudden, one of them just threw Bella up in the air.
"They weren't barking or growling. They were just there for the kill."
'Out of control'
Ms Thomas said she was bitten and bruised as she tried to fight the dogs off.
She said: "All the dogs were looking at me then. I have never been so scared before.
"A man arrived then, and was saying 'I'm so sorry, I didn't realise you were there.'
"They were all his dogs. I was thinking I should stay, and find out who this man was, but I looked down and saw all the blood and I had to get to the vets."
Ms Thomas added: "You should not be allowed to have a pack of dogs like that.
"They were not under control.
"If it had been one or two dogs, maybe it would have been different, but this was a pack and I just couldn't protect Bella.
"I've been going to that beach since I was a little girl, and have never had any trouble before.
"But suddenly it was like being in the wild."
A police spokesperson said officers wanted any information "regarding the identity of the owner of five Rottweiler-type dogs that attacked another dog on Dinas Dinlle beach at 13:00 BST on Sunday afternoon, as a result of which the dog died".
Officers believe the owner of the five dogs left the area in a red-coloured Ford Transit van.
Anyone with information is asked to contact PC Higgins at Penygroes Police Station on 101, if in Wales, or 0300 3300 101.