Sea search off Anglesey called off for missing trawlerman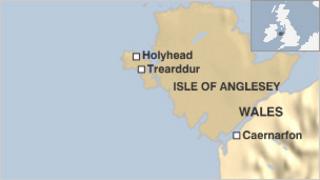 A major search has been called off for a fisherman who went missing about 15 miles (24km) off Anglesey.
Seven boats, including three lifeboats, covered an area of about 60 sq miles (155 sq km) west of the island.
A call was made at 02:29 GMT after reports of a man, who is not thought to be local, going overboard a fishing vessel. He was last seen at 00:45 GMT.
He was wearing jeans and a t-shirt but had no life jacket, and the sea temperature was recorded at 8C.
The missing man has not been named but he was not a regular member of the crew of the trawler, which is not local.
The boat was stopping off in Holyhead to refuel, and then was meant to be fishing down the west coast of Wales.
Mayday call
It is not known why or how the man went overboard.
Holyhead Coastguard, which is co-ordinating the operation, received a Mayday call and both Holyhead and Porthdinllaen all-weather lifeboats were launched at 02:35 GMT.
Trearddur Bay's Atlantic 85 lifeboat was also launched, along with Trearddur Bay and Holyhead's inshore lifeboats some time later.
Also involved have been an RAF Sea King helicopter - which has since been stood down - coastguards, the boat the man was on, and other vessels.
Ray Carson, rescue co-ordination manager for Holyhead coastguard, said: "The vessel left Holyhead at 23:25 GMT to go around into Caernarfon Bay.
"The missing person was last seen in the galley at 00:45. The vessel was 1.2 miles west of South Stack lighthouse, near Holyhead."
Mr Carson said it was about 15 miles off the coast when the mayday call came in.
He added a planning computer looking at winds and tidal currents was being used to work out where the missing fisherman might be.
"Initially the search was undertaken by Rescue 122 helicopter from Valley and the Holyhead RNLI all-weather lifeboat," he said.
"They both searched from the South Stack to the mayday position.
"We also brought out Porthdinllaen lifeboat, and they were joined by three other fishing vessels and the casualty vessel.
"They searched in a line working northwards up to South Stack from the mayday position."
Mr Carson told BBC Wales the helicopter had returned to RAF Valley for refuelling while the boats continued to search the area.
He said sea conditions were "favourable".
The trawler has now docked at Holyhead.