Campaigners' Blaenau Ffestiniog Memorial Hospital worry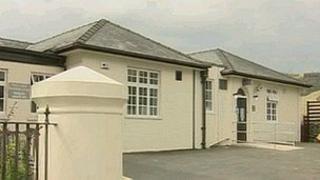 Campaigners say they fear a Gwynedd community hospital is being gradually downgraded while they wait for a review on its future to be published.
The group claims some patients are sent elsewhere rather than Blaenau Ffestiniog Memorial Hospital.
But Betsi Cadwaladr University Health Board denies a downgrade and says GPs choose which hospital is most suitable.
The Welsh government said review findings received by the health board would be published in due course.
The campaign group was established in 2005 when plans to shake up local healthcare were first announced.
At the time hundreds of supporters attended a public meeting to protest at plans to cut all 17 beds at the hospital.
There was also a protest march attended by more than 1,000 people. Those plans were shelved and the hospital is now run by Betsi Cadwaladr, which replaced the former Gwynedd Local Health Board.
Campaigners have continued to keep up the pressure, but say they are getting increasingly frustrated.
"It's got to the stage where we simply don't know what is going on," said Geraint Vaughan Jones, the hospital campaign group chairman.
He said a report commissioned on the future of facilities at the hospital was due to be published last year, but nothing has been released.
The group said it was being passed back and forth between the local health board and the Welsh government and in the meantime facilities were being "quietly" downgraded.
"We are losing clinics without any explanation. We've heard of examples of doctors at (hospitals in) Bangor and Llandudno not knowing we have a community hospital in Blaenau to send patients to when they leave the larger hospitals," Mr Jones added.
Minor injuries unit
There is also a concern that patients are being transferred from Ysbyty Gwynedd in Bangor to the £19m Ysbyty Alltwen community hospital in Tremadog - which opened in 2009 - rather than to Blaenau.
Mr Jones said recent announcements of cuts over the winter months at community hospitals across north Wales had added to the group's concerns.
"We support the protest they had at Bryn Beryl, and we have been trying to get our minor injuries unit to stay open later than 4pm," he said.
A Betsi Cadwaladr spokesman said beds at Blaenau Ffestiniog were managed by GPs.
"By agreement with local GPs, patients who are under the care of Blaenau Ffestiniog GPs are admitted to the hospital whilst those under the care of Porthmadog GPs are admitted to Ysbyty Alltwen," he said.
Facilities at the hospital were not being downgraded as the hours of the minor injuries unit had not been reduced.
The spokesman added that the level of physiotherapy service available to local patients had not changed either, although some was now offered in patients' homes, reducing the need for hospital-based appointments.
A Welsh government spokesman said Dr Ed Roberts had been asked to consider how the hospital could best be used in the future.
"The health board have now received a copy of the report," said the spokesman.
"It is for the health board to consider the review's findings in light of its proposals for the area. The report will be made public in due course."