Leaves are rural road hazard in Conwy, say residents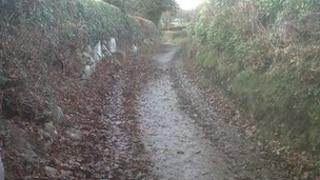 Residents of Conwy say leaves, hedge clippings and dirt are causing a hazard on rural roads.
They say drains are getting blocked, and rotting leaves increase the chance of cars skidding.
"There are times when it's exceedingly dangerous," said Chris Slinn who lives in Groesffordd.
The council said it was doing its best to keep on top of the problem, and asked people to help by calling in to report any trouble spots.
Mr Slinn said all the roads round his house are single track country lanes.
'Lack of maintenance'
He and some of his neighbours said leaves, hedge clippings, dirt and debris were building up on the road surface and clogging the drains.
"If a culvert is left to overflow, whenever that flows over the road, if there are frosty conditions, you will get a sheet of ice," said Mr Slinn.
"There are several places near here where there have been accidents caused by ice on the road.
"The only reason the ice is there is because the ditches and the culverts have been left with lack of maintenance."
Even when there is no ice, residents say there is still a problem. The leaves form a mat on the road and make cars and vans slip.
Independent councillor Goronwy Edwards, who represents Caerhun ward in the Conwy valley, said: "It's been very bad at certain times.
"We've had residents complaining that deliveries can't reach their properties because rotting leaves make a slippery surface.
"It's not only deliveries that can't reach properties. Even our own service like the bin men have had difficulties."
'Work together'
Conwy council says it has been out clearing some of the worst areas in the last few days.
Coun Mike Priestley, the environment portfolio holder on the council's cabinet, said: "I've had staff out looking at the issues which have been raised.
"It's not as simple as just leaves on the road. We've got an issue, and now we all need to work together to get on top of it.
"There have been one or two issues where we haven't responded as we should, and that's where we're looking to improve things."
Conwy council has set up a dedicated phone line for people to report environmental problems on 01492 575337.