Bangor's Parhad gallery aims at alternative art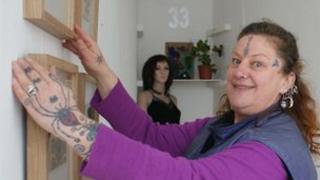 A new gallery in Gwynedd aims to showcase the work of new artists or those whose work is not normally seen.
Parhad - which means continuation in Welsh - in Bangor is owned by Johnny R, who is better known in record producing circles.
He said he took on the former tattoo shop in Holyhead Road as he knew how difficult it was to get a foothold in the art world.
"I want them to have a chance to get the buzz of exhibiting," he added.
"There are other, larger, galleries around but many of the artists aren't ready for a full-on exhibition."
The building has had a varied existence. Before it was a tattoo parlour it was used to sell bikes, and had lain empty for three years before its latest reincarnation.
"It's a quirky place and I'm open to photographs, poetry, anything really.
"I wanted to move away from the music business as I feel you should move with the times... and you never know, I might make a couple of discoveries," Johnny R added.
Michele Heidi Sutton, 51, who produces art based on female fertility, welcomed the opportunity to exhibit her work.
"My work is an abstracted form of biology, humans and plants, but most places won't show it," she said.
Describing her work as "sacred erotic but not pornographic at all," she welcomed the experience of exhibiting in Bangor.
"It's good to have an opportunity to hang it up all together," she said.
Kitty Forster, 24, said she was hoping the gallery would be a stepping stone to becoming an artist.
"I've been practising painting faces for years and I thought I have nothing to lose in showing my work here.
"My everyday job is working with children with autism but working towards showing work at the gallery has really provided focus for my art.
"Watching a face on a sheet of paper coming to life is very satisfying and really there is a lot of psychology in art," she added.