Snowdon 4x4: Craig Williams denies dangerous driving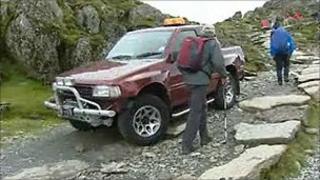 A man accused of twice taking a 4x4 vehicle up Snowdon has denied charges of dangerous driving.
Craig Williams, 39, was freed from custody on conditional bail by a judge at Caernarfon Crown Court on Friday.
The unemployed vehicle technician is charged with driving dangerously in a Vauxhall Frontera on footpaths and the mountain railway on the 3,560ft peak (1,085m) twice in September.
The trial of Mr Williams, from Cheltenham, is set for April.