Ysbyty Bryn Beryl: Protest march in Pwllheli over changes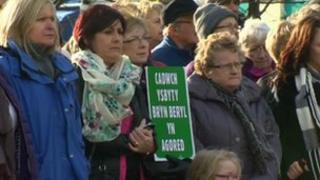 More than 400 protesters joined a march over concerns about a ward closure and cuts in opening hours at a hospital.
Organisers had called for a large turnout in support of Ysbyty Bryn Beryl in Pwllheli, Gwynedd.
It follows a public meeting last month, which was attended by 740 people, to discuss the closure of Llyn Ward and an hours cut at the minor injuries unit.
An expected rise in serious illnesses and funding issues led to the changes, Betsi Cadwaladr health board has said.
The protest march began at the Maes town centre car park at lunchtime.
Peter Read, the local county councillor, said police had told him they estimated up to 1,000 were involved in the protest.
Before the march, he said people had lost faith in the health board.
"We're going to fight to save services at this hospital and the public meeting and the march is the start of it," he said.
Mr Read added however that there might be some good news.
He said he had been told by the health board "but not in writing" that the ward earmarked for closure would now stay open but with a reduced number of beds.
A campaign group has also been set up in Ruthin, Denbighshire, concerned about the temporary closure of the minor injuries unit at the town's community hospital.
Patients there have been asked to attend their GP surgery or Denbigh Community Hospital minor injury unit instead.
The health board has said previously that all changes are temporary over the winter months.