Rally backs farmer refusing to sell land for Wylfa B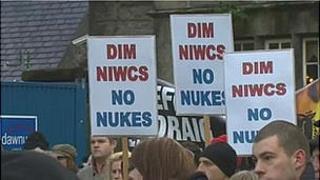 More than 200 people attend a rally on Anglesey to back a farmer who refuses to sell his land for the development of a new generation nuclear power station.
Dairy farmer Richard Jones' family has farmed at Caerdegog near Llanfechell for 300 years.
He said losing 65 acres of their best agricultural land plus another 20 acres they rent would make the farm unviable.
Horizon Nuclear Power says it has listened to the family and is looking again at the matter in great detail.
Speaking previously Mr Jones described the effect losing the land would have on his farm.
"This would mean that 80 cows that we milk would have to be dispersed and the land remaining would not be viable as an agricultural unit," he said.
"I realise people need jobs but at what cost? I can't understand why they need so much land."
Before he addressed the rally, organised by group People Against Wylfa B (Pawb), in Llangefni on Saturday, Mr Jones said Horizon was making it sound as if the company no longer wanted to buy his land, but that was not the case.
"They still want to buy my land, but I hold the pack, and I'm not going to give them a single card. They will have to force me to sell," he added.
Other speakers will include Greenpeace and Cymdeithas yr Iaith Gymraeg (the Welsh Language Society).
Apart from the objections to the land buying on the island some argue that the island's infrastructure cannot cope with the influx of workers needed to build a new power station.
'Culture and language'
They also say that with so many people from outside the area moving into it will adversely affect the culture and Welsh language in the area.
Richard Foxhall, stakeholder relations manager for Horizon Nuclear Power said the new power station would help the island.
"Younger generations leaving the island because there are not enough jobs will not help the economy, the culture or the language," he said.
"Horizon will employ Welsh speakers, just as the current station has for over 40 years."
He said some specialist construction workers would be required for a period, but the claims made that 6,000 houses would be built, or that a migration of 16,000 people was expected, were not true.
"We expect to draw on local people during both construction and operation.
"We are already working with local governments, colleges and business organisations through the Energy Island programme to make sure as many local people as possible have the knowledge and skills to be involved," he said.
On Caerdegog farm, he said the company had listened to the family's concerns "and are looking at this again in great detail".
"We may or may not need to buy some of the land but we don't see any reason why the farm cannot be a going concern, in the Jones family, for generations to come."